>
Home
>
About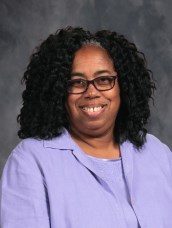 Lynnette Jefferson's teaching career began while she was still a college student at Atlantic Union College (AUC) in South Lancaster, Massachusetts.  Taking two years off as a student missionary, she taught 15 students, grades 1-2 in a multi-grade environment and co-taught classes in grades 7-8 in Palau, one of the Micronesian islands. 
        Lynnette graduated from AUC with a BS degree in elementary education and Northwestern University in Natchitoches, Louisiana with an MA degree in Educational Technology.  She has held principal-teacher positions over half of her 25 year career as an educator, while teaching lower grades of elementary school in Brooklyn, New York, Alexandria, Louisiana, Taylor and Inkster, Michigan and Chicago, Illinois.  She is now in her 9th year teaching at Peterson-Warren Academy, grades 6-8, and has been the Principal-teacher since the 2018-19 school year.
       Lynnette says "I believe my role as an educator is to help students develop the skills needed to advance in their educational pursuits. I believe we must endeavor to help all children develop a love for learning and become independent learners. Ultimately, my goal is to help students know that with God they can succeed in all they do".  
       She aspires to continue her goal to equip students to follow the admonition penned by Ellen G. White in the book, Education, p. 17:"It is the work of true education to develop this power, to train the youth to be thinkers, and not mere reflectors of other men's thought."